The final Insurance Investment Exchange event of the year showed that insurance company investment chiefs will be looking to hold their nerve through the current volatility.
The traditional end-of-year seminar - Ghosts of Christmas Past, Present and Future – took place virtually over two mornings and contained the usually mix of keynote presentations, specialist talks, panels and polls.
The first morning was kicked off by Carl Emmerson, Deputy Director, Institute for Fiscal Studies, talking about 'Assessing the challenges for UK public finances – Post pandemic, pre-Brexit and beyond'.
His detailed survey of the public finances concluded with a warning that more fiscal tightening is inevitable and a note of caution on Brexit: "The assumption is that any deal will be very, very shallow".
On the second morning Mark Cornelius, Head of the Major Life Insurance Groups Division at the Bank of England, focussed on the Bank's strategic priority of "promoting resilience to climate change, exploring how it is encouraging firms to use scenario analysis to understand the risks they might be exposed to. These risks can be grouped under various headings: Physical, financial and reputational.
The specialist talks covered a range of asset classes, offering insights into the prospects for 2021.
Restructuring in a COVID-19 world: Workout capabilities in private assets – M&G investments
The Crux of the Core: Evolving fixed income in a negative real world – Allianz Global Investors
Planning the Sustainable Journey: From risks to opportunities to integration – AXA Investment Managers
The audience polls showed that CIOs are not overly optimistic for the post-pandemic economic recovery, with the majority expecting a bumpy W-shaped recovery or a more drawn-out U-shaped recovery (Figure 1). This pessimism was underlined by a majority view that we are in for a prolonged downturn with recovery a year or two away (Figure 2).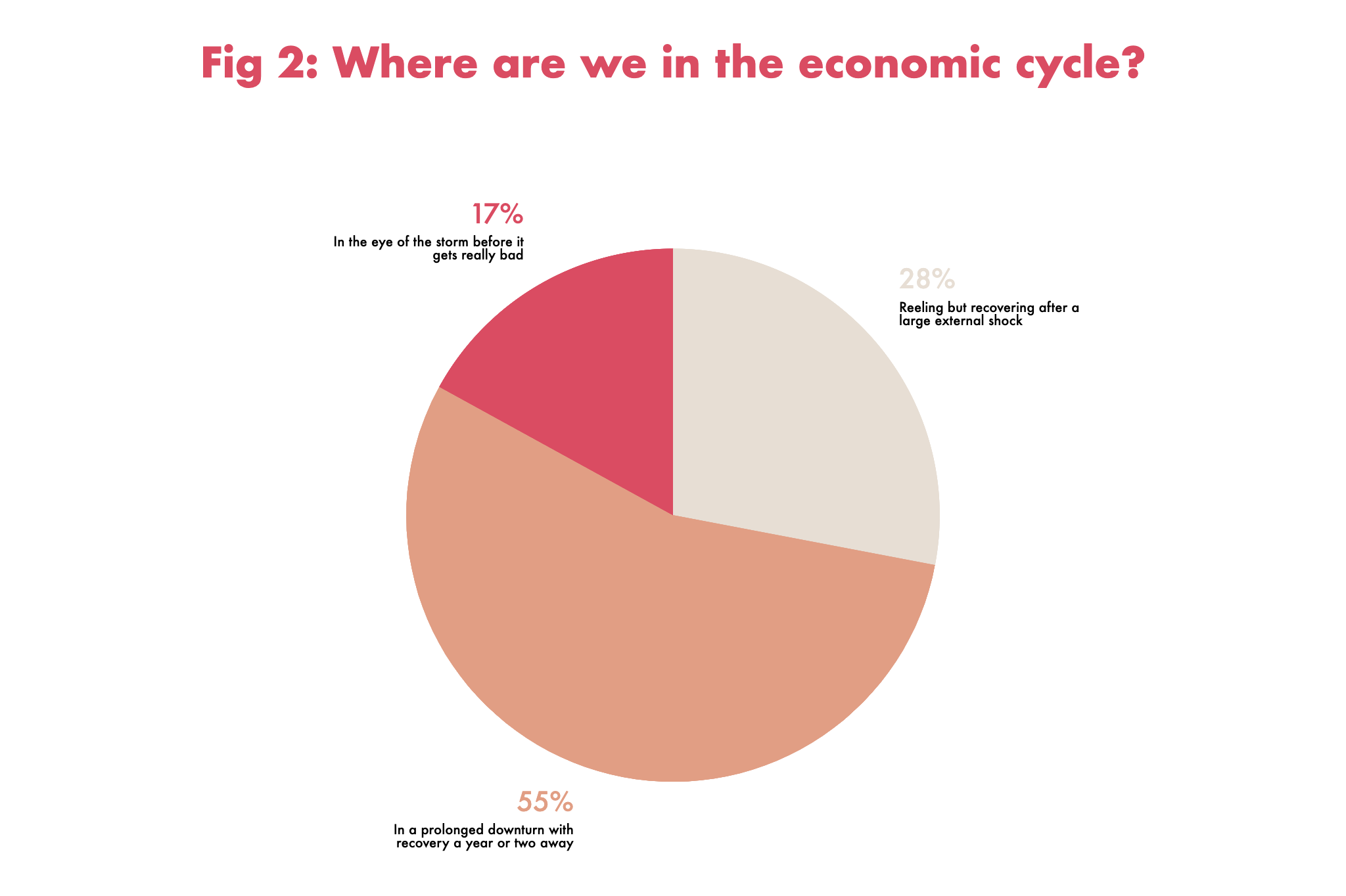 As to CIOs' own responses to the "new normal" that we will emerge into in 2021, it seems they are stealing themselves to hold their nerve with the majority saying they will be ignoring volatility and focussing on longer-term trends (Figure 3).