Green bond issuance rebounded in the second half of 2020 by just enough to enable the young market to maintain its decade long record of year-on-year growth.
It reached US$269.5bn by the end of December, just 1.1% above the 2019 figure of US$266.5bn, according to the Climate Bonds Initiative, a London-based non-profit company which promotes investment in the low-carbon economy.
After a strong first quarter, second quarter green bond issuance was impacted by the COVID-19 pandemic, but a record-breaking third quarter ensured it eventually finished the year ahead.
"The impact of COVID-19 in 2020 proved a huge economic and social negative. In that context, the resilience of green finance markets led to a record year of issuance", says the report.
The 2020 figure is the highest since the market's inception and maintains the trend of nine consecutive years of increased green market growth. For 2021, CBI is forecasting further strong growth to US$400bn-US$450bn. Much of its optimism for this year is based on incoming US President Joe Biden's commitment to re-engage America in international programmes to combat the impacts of climate change.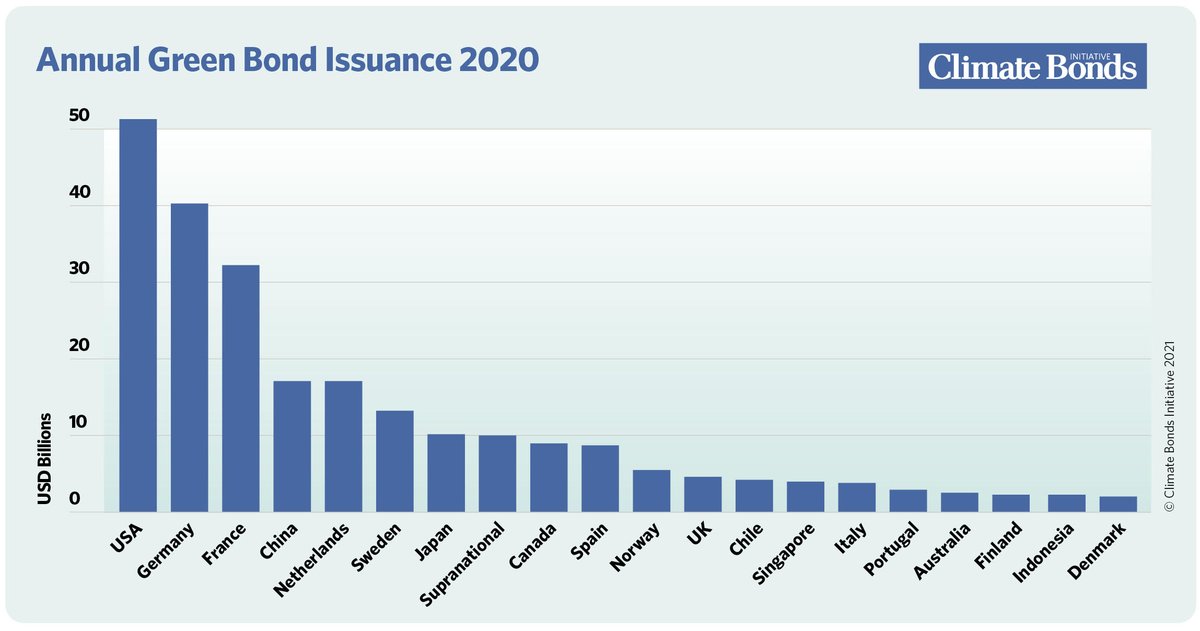 The United States continues to lead the national issuance rankings (US$51.1bn), with Germany second (US$40.2bn) after a year of strong growth, and France third (US$32.1bn) with China fourth (US$17.2bn), marginally ahead of the Netherlands (US$17.0bn). The UK is 12th.
Fannie Mae was the largest green bond issuer in 2020 with a total issuance of US$13bn. The enterprise's Multifamily Green MBS programme is used to finance green mortgages backed by multi-family properties that are awarded green building certifications or display audited efficiency improvements.
Germany became the second-ranking green bond issuer in the year following its debut green sovereign bond which hit US$12.8bn. The domestic green bond market in Germany is already established as one of the biggest in the world, due in large part to bonds from state owned development bank KfW, the fourth highest individual issuer.
Definitions remain a problem in the relatively young green bond market, underlined by data from other providers. Bloomberg puts the market size for 2020 at US$305.3bn and data provider Refinitiv has it at a more modest US$222.6bn.
Further data and full report can be found on the Climate Bonds Initiative website
Reporting by David Worsfold