The latest Insurance Investment Exchange digital roundtable in the Rethinking the Portfolio series took a deep dive into the growing US taxable municipal bond market.
For three-quarters of the attendees this was a new area so a three-strong team from PIMCO – Alpita Maheshwari in London and Alex Etzkowitz and David Hammer in the US – took people through the background and structure of the market before exploring the prospects for the future, writes Contributing Editor David Worsfold.
That future will be heavily influenced by the huge stimulus package launched by US President Joe Biden, said IIE founder Dr Bob Swarup in his introduction: "It is an ambitious plan to remake US infrastructure and go back to the FDR [Franklin Roosevelt] glory days in the 1930s with enormous fiscal stimulus".
Etzkowitz said it was an ideal asset class for diversification as it didn't always correlate with similar assets because of its varied cash flows and therefore helped diversify the asset blend on a typical risk-reward spectrum. It could be used as a core asset in a diversified credit portfolio (see chart at top of page) or support other core assets as a satellite.
Many of the taxable municipal bonds – a class that came into its own after a series of tax reforms in 2017 which prompted major switches from tax-exempt to taxable bonds – lend themselves to supporting environmental, social and governance (ESG) strategies, said Hammer. This was highlighted in the event polls as a key issue still growing in importance for attendees.
"This is a market that really lends itself to ESG issuance. Clean water, education, not-for-profit healthcare and big foundations such as the Ford Foundation and Rockefeller Foundation are all municipal issuers", said Hammer.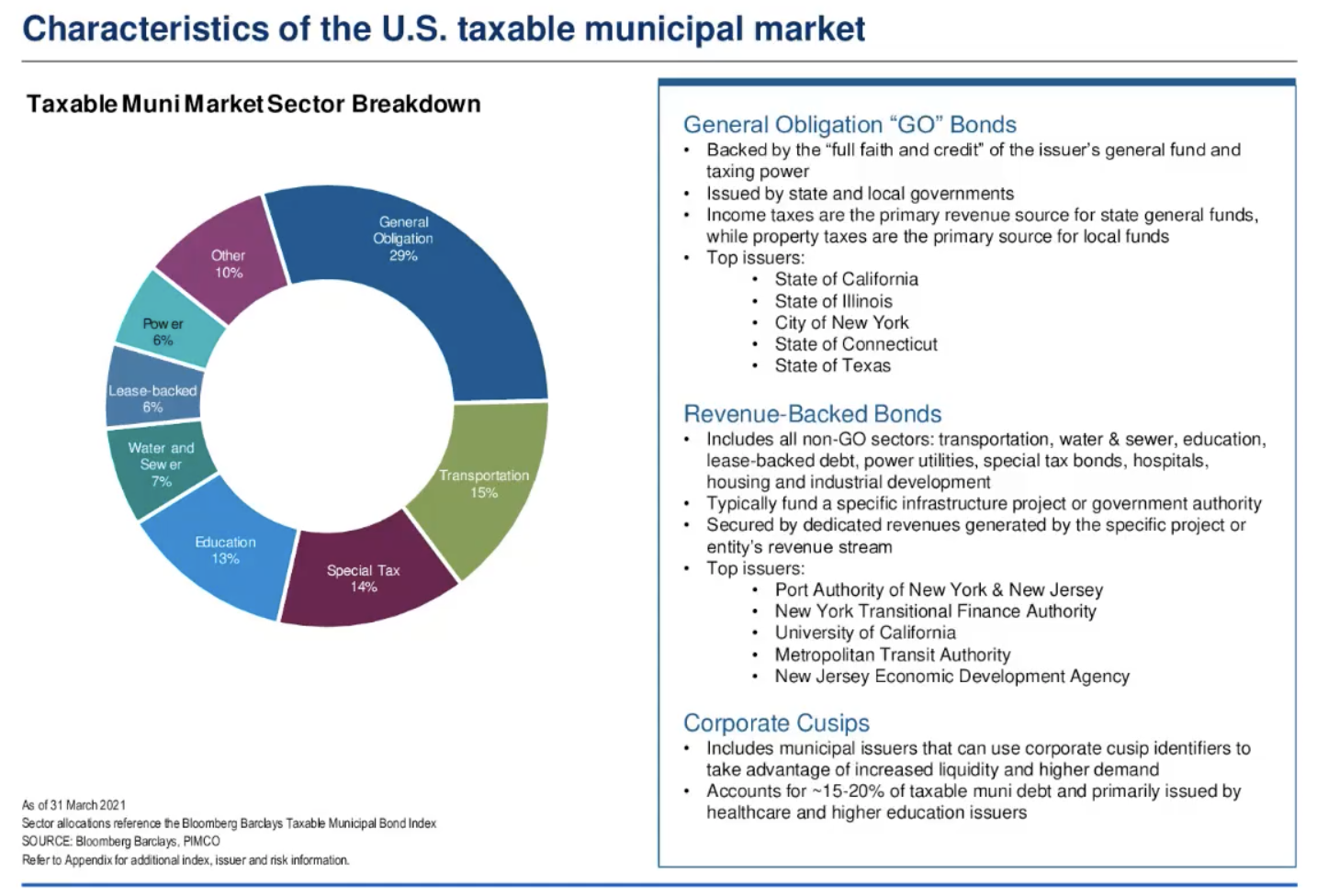 Aging US water and sewage systems are likely to be a top priority for Biden's infrastructure programmes and the big charitable foundations have been attracted to the credit market because of low interest rates and the need to raise large sums of money for philanthropic programmes to aid recovery from the Covi-19 pandemic. Green energy and bio fuels are another area earmarked for expansion. This will further diversify the taxable munis market and strengthen its ESG credentials (see chart left).
A series of case studies based on PIMCO clients helped illustrate the varying ways taxable munis can be used, drawing out comparisons with the corporate bond market and highlighting the potential for higher yields and lower defaults.
The Q&A session gave participants an opportunity to see how taxable munis could fit into a variety of insurer portfolios and explore some of the challenges from a European perspective, such as the impact of currency hedging and the matching adjustment
• The next IIE digital event is a virtual seminar entitled Quo Vadis - Inflation, Out of Cash and Becoming Climate Aware which will be held over two consecutive mornings on 16 and 17 June.