Life insurers must brace themselves for the impact of "history's largest inter-generational wealth transfer" with US$7.8trn of assets under management at the 40 largest global life insurers potentially in play.
This is one of the headline results of the Capgemini Research Institute's World Life Insurance Report 2023, writes Contributing Editor David Worsfold.
It warns that insurers' product mix is not well positioned to meet the challenge of retaining a significant proportion of this money. Innovation around added-value will be essential to meet the expectations of the growing numbers of asset-rich older people.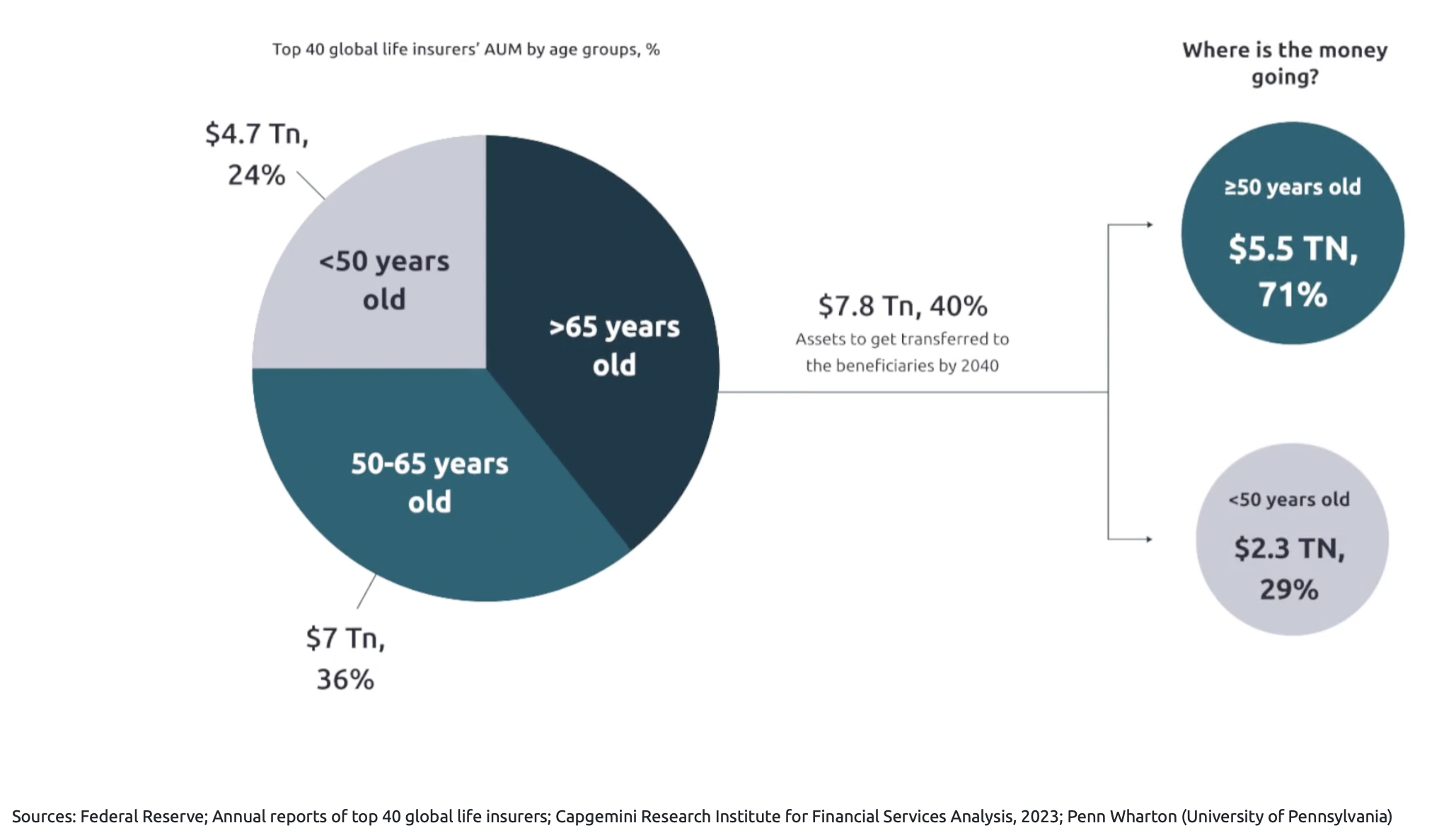 Currently, policyholders over the age of 65 own 40% of insurers' AUM, which for the 40 largest global life insurers totals US$7.8trn. According to the report, these assets are poised to be transferred to beneficiaries by 2040 without a proactive response from insurers. This money will split between beneficiaries over and under the age of 50 and much of it will be reinvested but the key questions will be: with whom and what will insurers need to do to retain a significant proportion of that within their ecosystems?
The report says most senior citizens lack a financial plan for aging well, with 60% of individuals aged 65 or older failing to seek adequate professional financial advice to prepare for retirement or to transfer their wealth. This presents insurers with an opportunity, says Samantha Chow, Global Leader for Life, Annuity and Benefits Sector at Capgemini:
"The demographic shift coupled with the greatest wealth transfer to take place in the coming years threaten the life insurance industry, as it competes to serve the needs of an aging population. To help policyholders age well, carriers must find a way to appeal to the evolving needs of consumers by creating a personalized and tailored experience through more innovative product design."
This should include engaging with firms that can help insurers create value-added services to meet the demand for aging-well solutions, ranging from wellness initiatives to assisted living. According to Capgemini more than 75% of what it defines as "affluent and mass affluent" consumers who hold 39% of global wealth and account for about 20% of the aging population want these innovative life products. It says only 27% of insurers have the advanced product development capabilities to provide them.
Insurers must find a way to protect assets and boost growth says the report highlighting a journey it says that will take insurers from today's product-centric approach to an operating model focused on customer-centricity, with comprehensive, higher-value solutions designed to help consumers age well.
Better use of data and systems integration will be an essential building block:
"Insurers can consolidate data for a single view of the customer and digitally empower agents by leveraging artificial intelligence, including generative AI, to offer hyper-personalised advice. However, only 21% of insurers have the tools for advanced data analytics capabilities, and fewer (19%) are taking advantage of advanced technologies to streamline operations, enrich experiences, integrate across emerging ecosystems, and make faster and more data-driven decisions", says the report.
Report Methodology
The World Life Insurance Report 2023 draws data from two primary sources, the 2023 Global Insurance Voice of the Customer Survey and the 2023 Global Insurance Executive Interviews. Together, this primary research covers insights from 23 markets: Australia, Belgium, Brazil, Canada, China, France, Germany, Hong Kong, India, Italy, Japan, Malaysia, Mexico, Netherlands, Norway, Portugal, Singapore, Spain, Sweden, Switzerland, the United Arab Emirates, the United Kingdom and the United States. The Voice of the Customer Survey, administered in May and June of 2023 in collaboration with Phronesis Partners, polled 6,775 insurance customers above the age of 50 years in 20 countries. The report also includes insights from interviews with 200 senior insurance executives of leading insurance companies across 14 markets. These markets together represent all three regions – Americas (North America and Latin America), EMEA and APAC.